Wesley Hill Nature Preserve
Maintained by the Finger Lakes Land Trust, Wesley Hill Nature Preserve is a 390-acre protected area featuring diverse stands of mature forest, a wide array of wildflowers, sweeping vistas of the hills surrounding Honeoye Lake, and a dramatic view of Briggs Gully. Over 5 miles of trails offer hours of hiking, skiing, and exploring for enthusiasts of all levels.
Open
HOURS
Open dawn to dusk all year

ABOUT
Wesley Nature Preserve provides excellent examples of the area's geologic history and ecological systems. Water tumbling down to the glacially carved Honeoye Lake cut the deep gullies of the preserve. Areas more recently abandoned by farmers give the preserve a small field and a woodlot of young trees which provide additional habitats. Here, you'll hear Yellow-Throats, Bluebirds and Song Sparrows, and may see a deer, fox, or woodchuck.
For more information on the preserve and the Finger Lakes Land Trust please visit: www.gofingerlakes.org/locations/wesley-hill-nature-preserve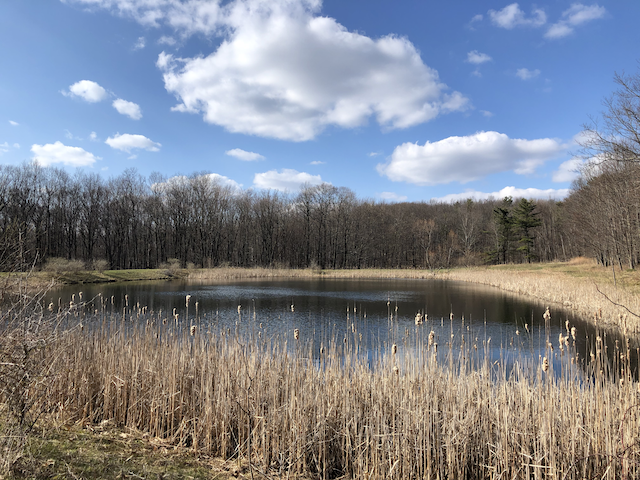 ACTIVITIES
Hiking & Running
Cross-Country Skiing
Snowshoeing
Birdwatching
DOGS
Keep your dog under control at all times. Do not let dogs chase wildlife.
PROHIBITED ACTIVITIES
In general the following activities are prohibited:
Use of motorized vehicles (except parking in designated parking areas);
Riding bicycles, horses, or any other mechanical devices or animals;
Animal trapping and small-game hunting;
Target shooting or paintball shooting;
Camping and fires;
Swimming
For a detailed list of prohibited activities please visit: fllt.org/policies
DIRECTIONS
From Honeoye, take Rt. 20A east to East Lake Road. Follow East Lake Rd. south for a short distance and then turn left on County Rd. 33. Continue a short distance and turn right on Pinewood Hill Rd. Follow Pinewood Hill, then Gulick Road south toward Cumming Nature Center, for a total of 6.4 miles to preserve entrance, on right.