Glamping in the Trees: A Stay at Silverlaken
Letchworth local, Sarah Keeler, took her seven year old son to Silverlaken for a one-of-a-kind glamping experience.
I have no qualms about saying that summer is my favorite time of year in the Genesee Valley. This area offers plenty of reasons to love it during its warmest season, from stunning hikes in Letchworth State Park to its abundance of ripe organic produce. But if I'm being honest, I'm really here for the lakes.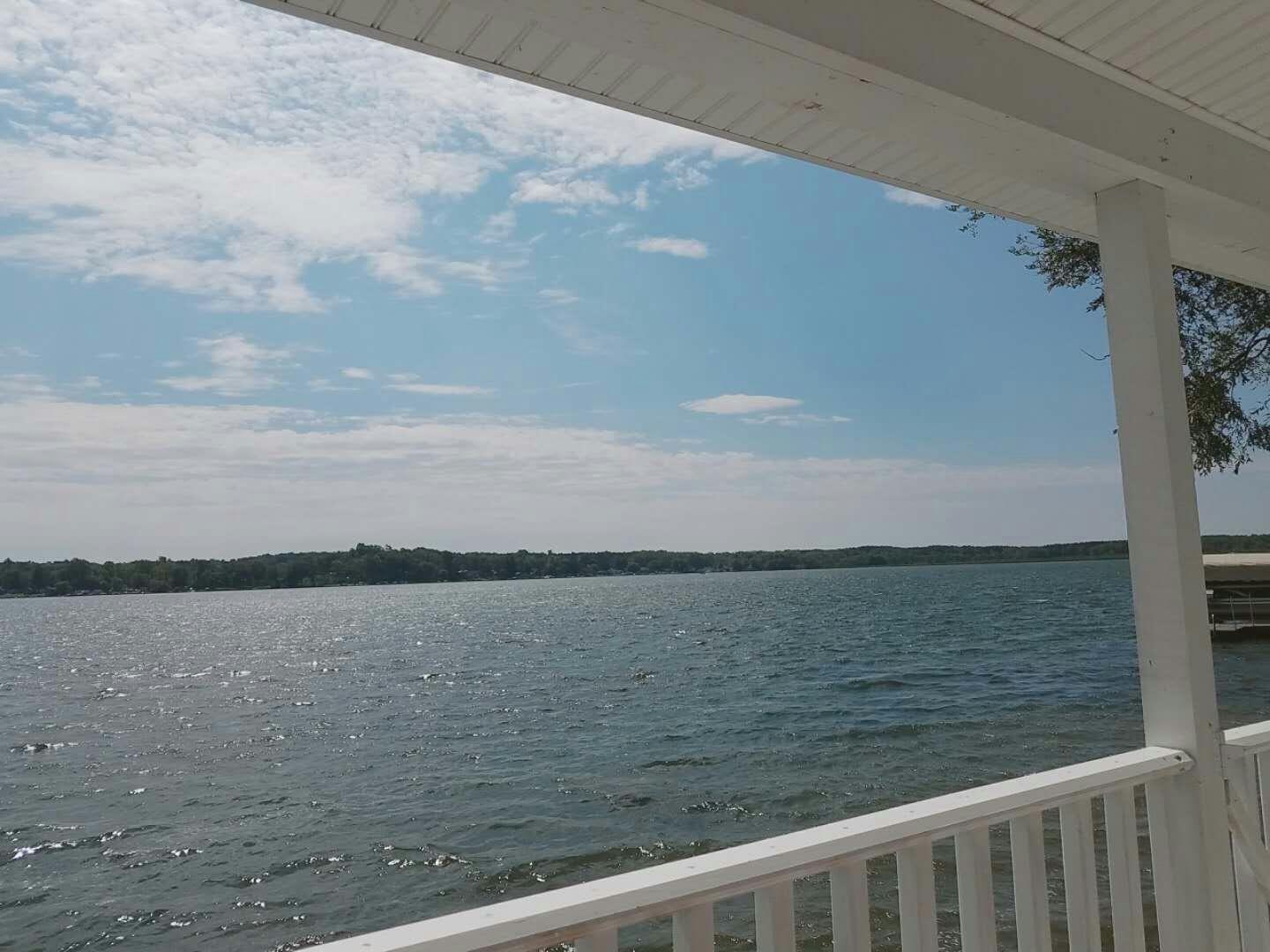 Growing up landlocked in south central Texas means that lakes are a marvel to me. My idea of a perfect summer day is one spent boating and swimming and lounging next to cool still waters. While it's smaller than the others in the Finger Lakes region, Silver Lake has a special place in my heart.
Since Perry is just a mile from its shores, I gotten more than my share of quality time at this stunning lake this summer. But I wanted more.
When I heard about Silverlaken, a glamping resort that opened earlier this year on the western side of the Lake, I knew I had to check it out before the sunny days of summer came to a close. I'd also promised my seven year old son a camping trip before school started, so this was the perfect opportunity.
Silverlaken offers a variety of accommodation options to suit a range of "glamping" (luxury camping) styles. Guests can choose from fully indoor sleeping arrangements like the main 3 bedroom cottage, the boat house that hovers over the water, and even a tiny house on wheels. Also available are two yurts outfiited with jacuzzi tubs, a log cabin and two tree tents.
Since my son was looking for a full camping experience, we opted to reserve Tent #1, the larger of the two. When we arrived for check-in, a little after 3 o'clock, the tent was set up for us between two large trees, just a few yards back from the lake. My son was thrilled to get to sleep suspended about 15 feet in the air.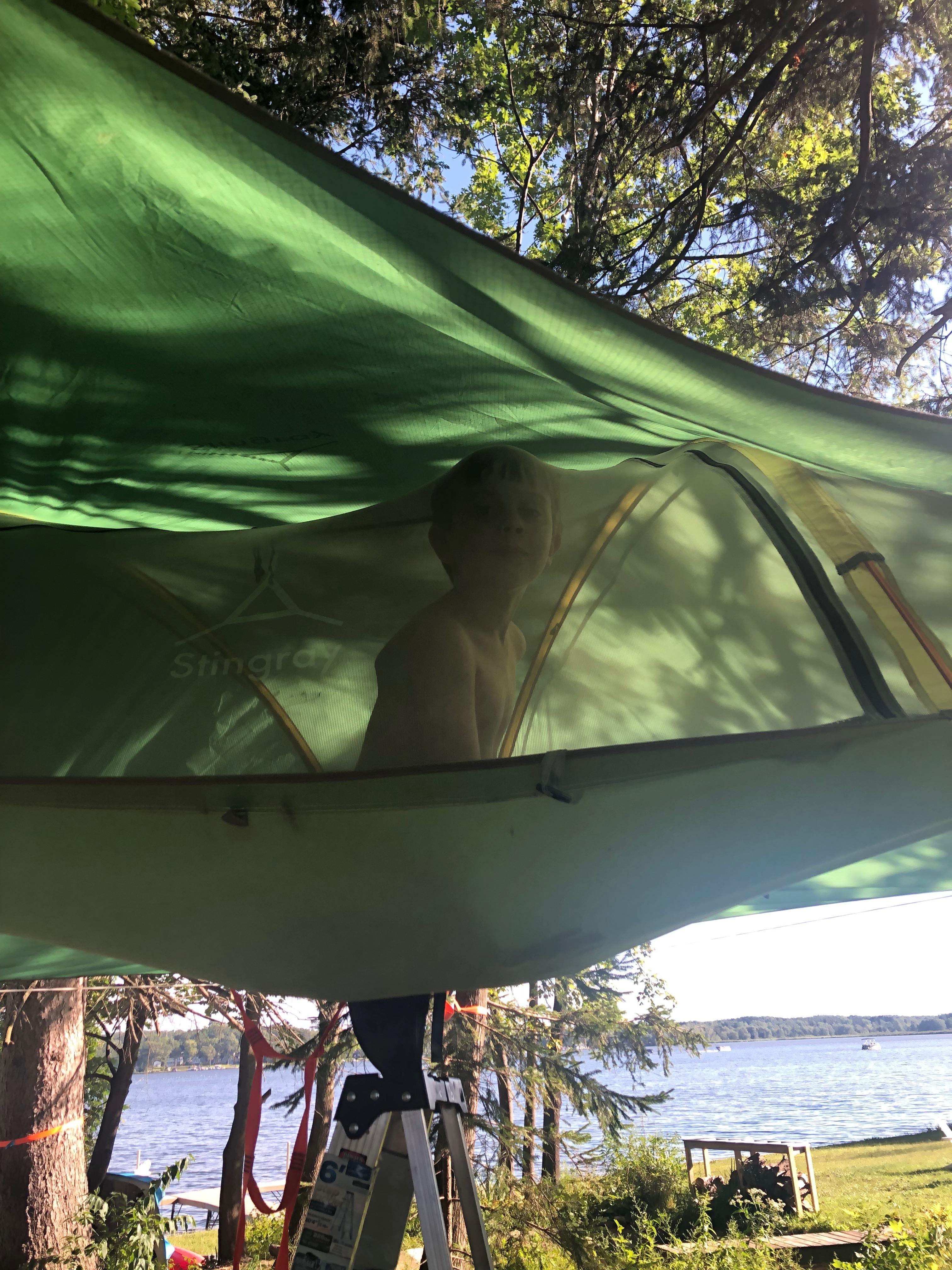 A rope ladder hung down from the tent, but our hosts had graciously left a more stable metal ladder underneath the entrance so my son would be more comfortable climbing in. After unpacking and checking out the tent, we set off to explore and enjoy the gorgeous property.
Since we visited on a weekday near the end of the season, we had almost the whole grounds to ourselves. Guests at Silverlaken are invited to use the kitchen, porch and common area in the main cottage as well as take advantage of the kayaks and docks on the property.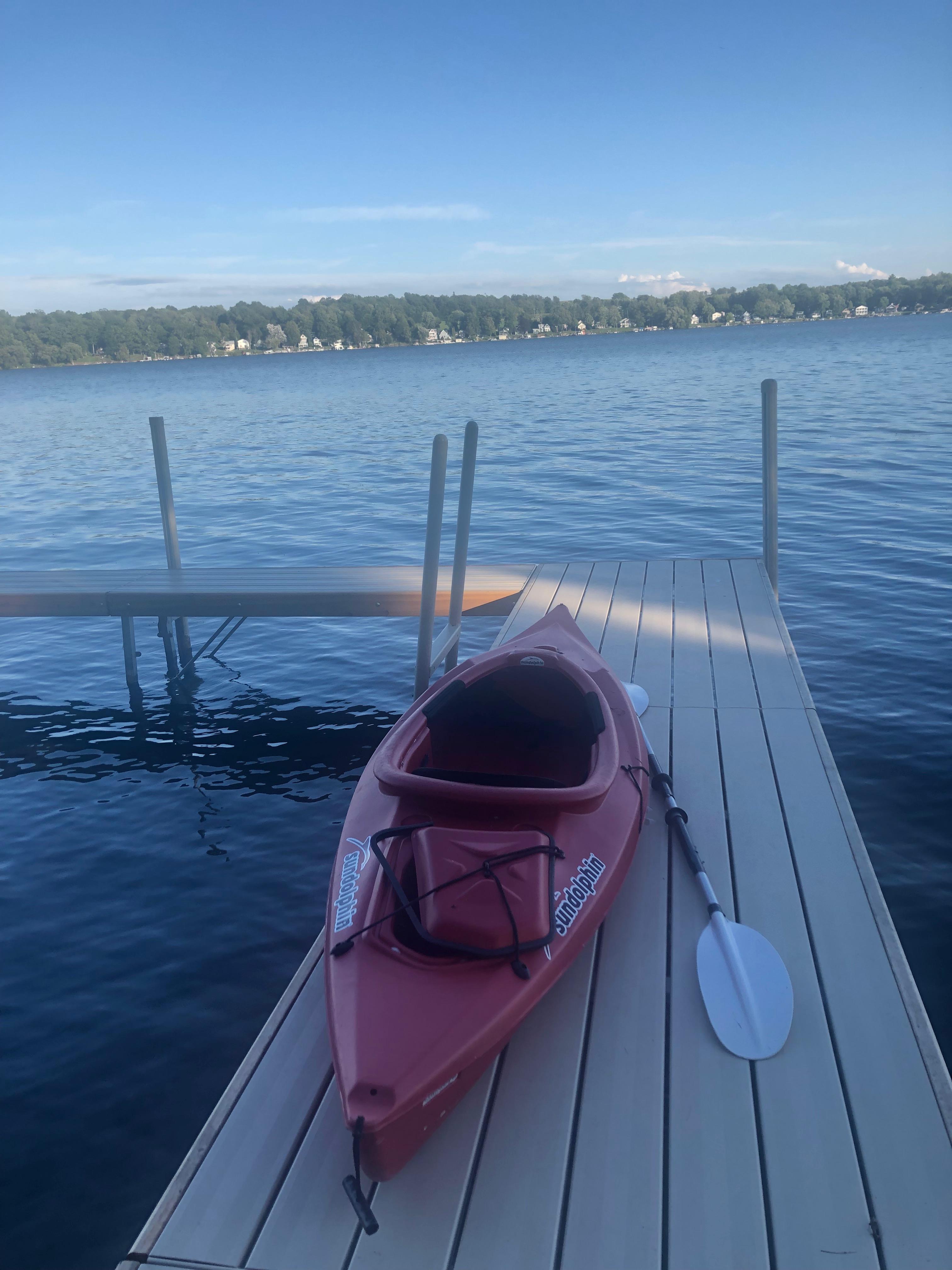 We slathered ourselves in sunscreen and headed out to kayak the perimeter of Silver Lake for most of the afternoon. After our spin around the lake, we brought snacks and books out to the dock. This quiet spot on the lake was perfect for a few minutes of reading, surrounded by the picturesque views and sound of water lapping gently onto shore.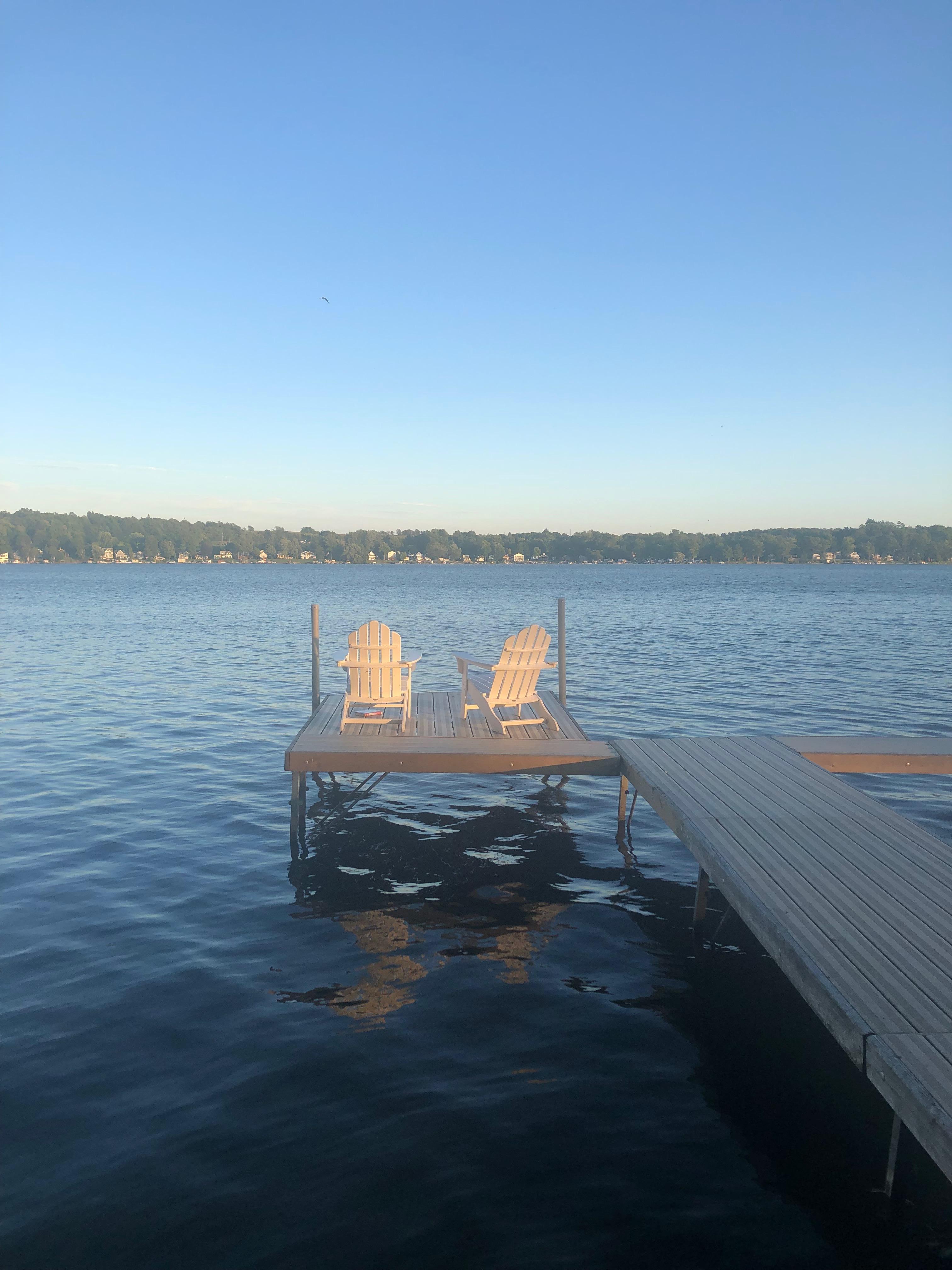 We fired up the dry sauna and let it heat up while we read. The beautifully crafted cedar wood Finish-style sauna puts the "glam" in the camping experience here.
Open for all guests to use, the sauna is attached to the bath house, a log cabin that also holds a shower stalls and clean indoor bathrooms for all guests to use. I loved that we had the "rustic" experience of sleeping outdoors with the convenience of a hot shower just a few yards away.
The sauna can be set at any temperature up to 200 degrees. My son was eager to try it so we kept it at a cool 150 and stepped inside in our bathing suits.
While we didn't last too long (we had a campfire to make!), the sauna experience made our short camping stay feel like a true vacation. Unlike many saunas in gyms, this one is heated with hot stones. The aroma of warm cedar and the sweeping view of the lake outside, provide a complete respite from the outside world.
Post-sauna it was time to shower, change into cozy pajamas and get to what the seven year-old was most eager to do: sit around a campfire and make s'mores.
I love the outdoors, especially when I'm by a lake, but to say I'm not equipped with many wildnerness skills is a gross understatement. Even though I wasn't a girl scout and hadn't camped since the first decade of my life, I figured I probably knew how to start a fire.
I'd been to plenty of firepit gatherings and helped friends gather kindling, throw logs on and stroke the flames. Plus, since Silverlaken is equipped with wifi across the entire property I had Google as my fire-starting guide. I could do it!
*Reader, I could not do it. *
Plenty of camp wood was stacked and ready for us near the fire pit in the middle of the grounds along with lighters, fluid and other fire-starting accessories. Unfortunately for my son, his mother had neither the skill nor patience to properly use them.
No worries. We made our S'mores in the microwave in the kitchen and ate them with our legs dangling over the edge of the dock. Glamping at its finest.
At bedtime, we cozied up in our suspended tent while I read out loud with the help of a flashlight. We dozed off to a lullaby of crickets and the late summer breeze whirling around the tent.
We did get to enjoy our campfire before leaving the next morning with the help of Silverlaken owner, Mike Bellamy. I sipped a cup of coffee next to the fire while my son played with other kids visiting the campground.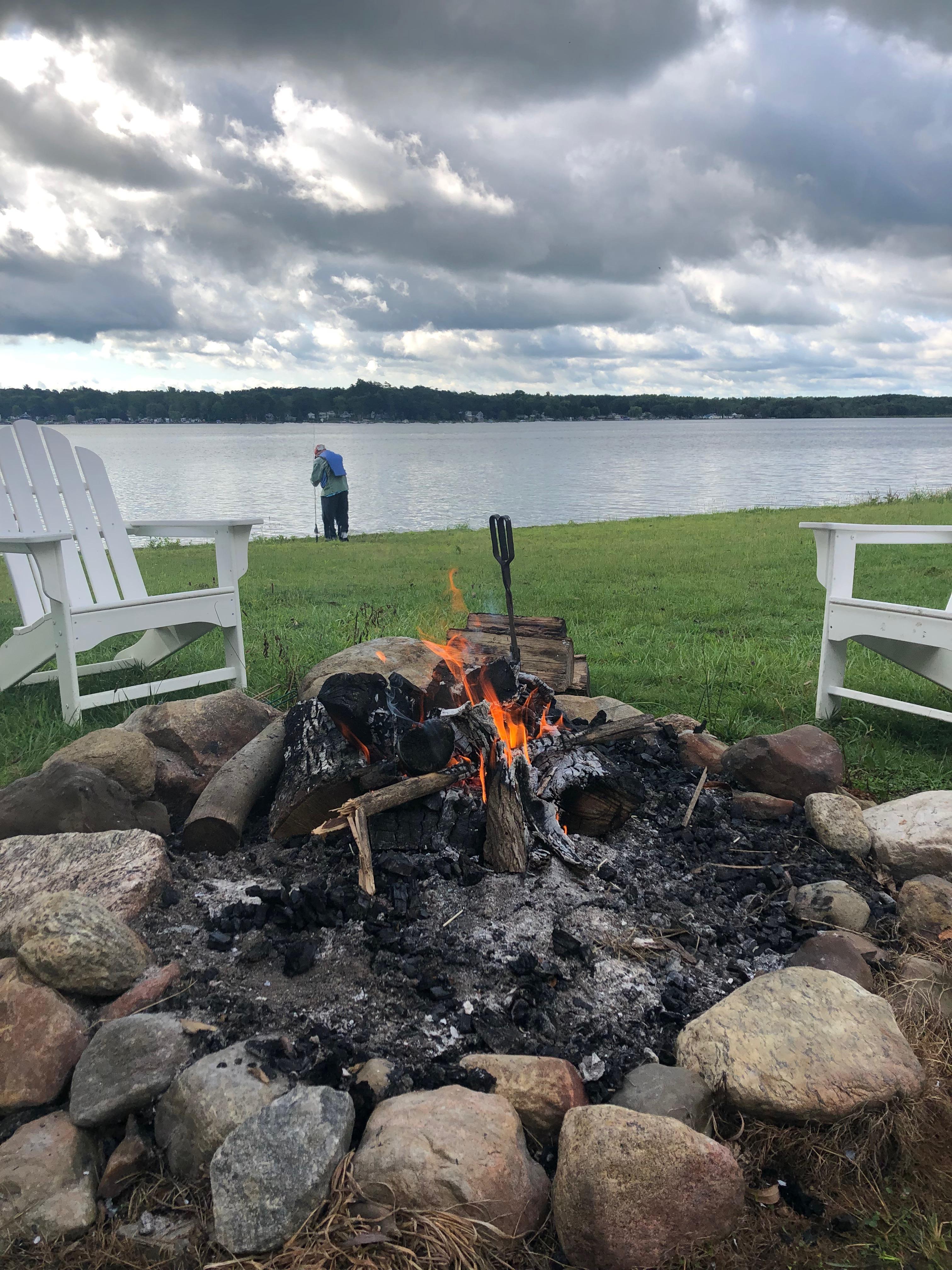 Mike even showed the kids how to sail, taking each of them out on a small boat in turn. It was the highlight of my son's summer!
By the time we packed up the car to leave, I'd already made plans to come back for a longer stay next year, this time sharing the boat house and a yurt with a few family members for a mid summer getaway.
For bigger family reunions and celebrations, guests can rent the entire property, which sleeps about 50 guests. Silverlaken offers the best of a rustic, outdoor camping experience with all the comforts of a boutique hotel. The family-owned feel gives this glamping site a friendly vibe that shows off the best of the Genesee Valley.
A stay at Silverlaken is a must for anyone visiting the Genesee Valley. Locals looking for a fun, affordable escape nearby should also try booking a night or two here. With accommodations starting at just about $80 per night, it's a value that's hard to beat.