Genesee River Eagle Watching Has Never Been Better
If Fourth of July got you in the mood to lay eyes on the national symbol, the Genesee Valley has three eagle hotspots that are free, open, convenient for social distancing, and have never been busier with eagles.
Anyone can access any of these eagle zones with zero special gear, experience, or fear of accidentally bumping into an active eagle nest. To do it like a pro, you can pack binoculars and hiking boots.
On your way to each of these spots, watch for a truly enormous bird, way bigger than a crow, with a heavy, downward-curved beak. When they fly, they will hold their wings flat across like a tabletop, instead of in a 'V' shape like their common lookalike, the turkey vulture. Not all bald eagles will have the classic white head and tail. If they're young, up to about five years old, you'll notice that they have grayish heads and tails. The older they are, the whiter their heads get. Once they get to be about five, they grow those bright white head and tail feathers and become fishing and scavenging machines.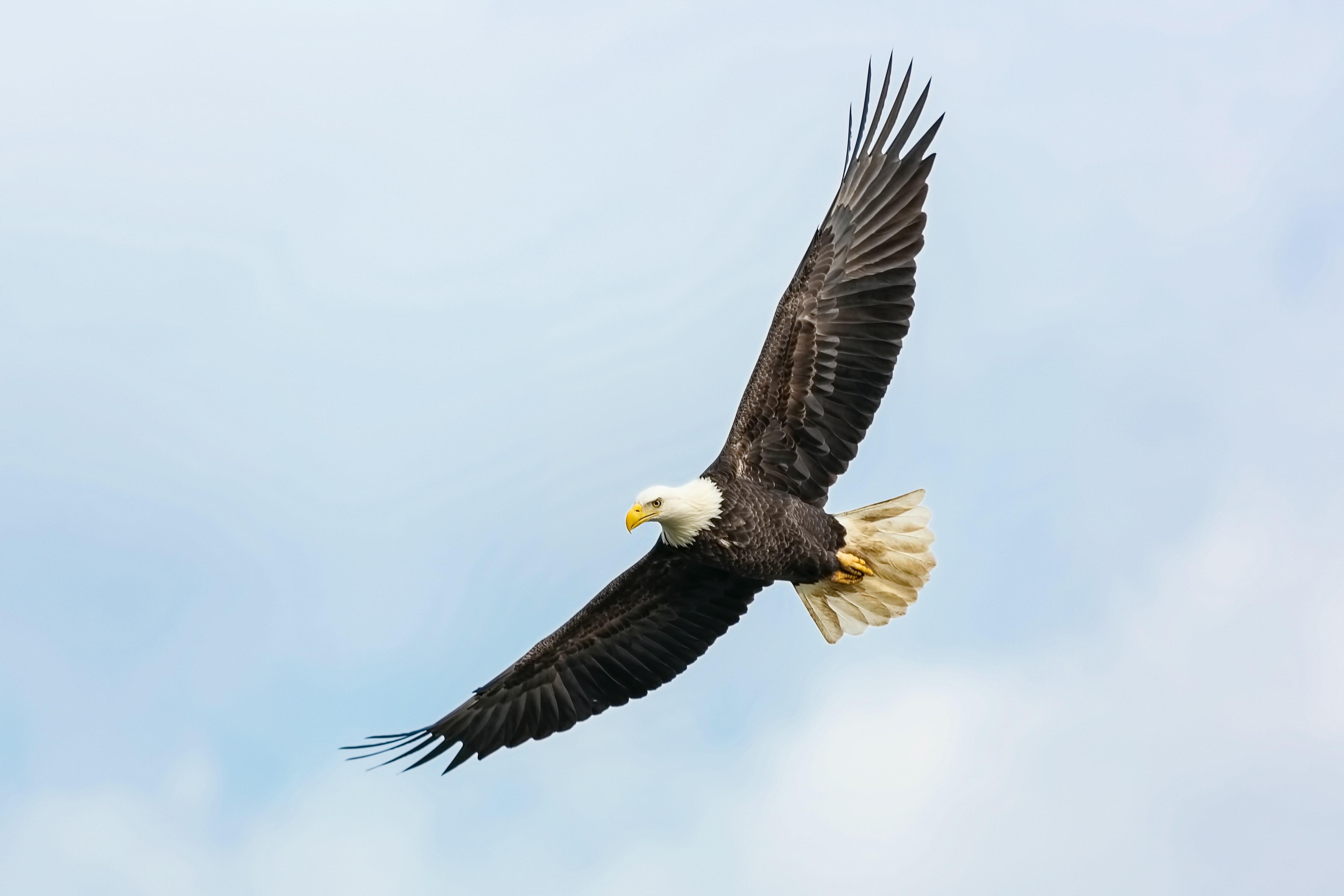 If you're coming from the north, your quickest bet is Rte. 63 between York and Geneseo, a place known to locals as 'The Flats.'
The road runs through dead-flat, wide open farm fields with huge trees standing alone out in the sun. The Genesee River and its fish are easily reachable from the air and the road is high-speed, which fortunately for the eagles means that there is plenty of roadkill. The trees' dead, bare branches make perfect eagle towers with a view.
To be safe, it's best not to pull over to the side of 63. That's why this spot is such a well-kept secret. There's convenient, out-of-sight parking at the three access points to the Genesee Valley Greenway: Fowlerville Road 100 feet west of the intersection with Rte. 39; Hogmire Road, half a mile west of the intersection with Rte. 39; and South Avon Road, 1 mile west of the intersection with Rte. 39.. Park at any of these spots and enjoy a walk along the side of Fowlerville, Hogmire, and Chanler Roads, keeping an eye on the road for traffic and to the sky for eagles. Especially watch those giant trees for a huge, dark blob on the top.
Follow the river south and you'll reach Conesus Lake, one of the westernmost Finger Lakes. Eagles hunt and perch in trees all around the lake.
While anywhere on Conesus is good eagle country, the south end has a huge swamp with lots of dead trees and open water slowly flowing north into the lake itself in a narrow inlet. This swamp, locally called 'The Inlet,' is an ideal hunting ground for eagles.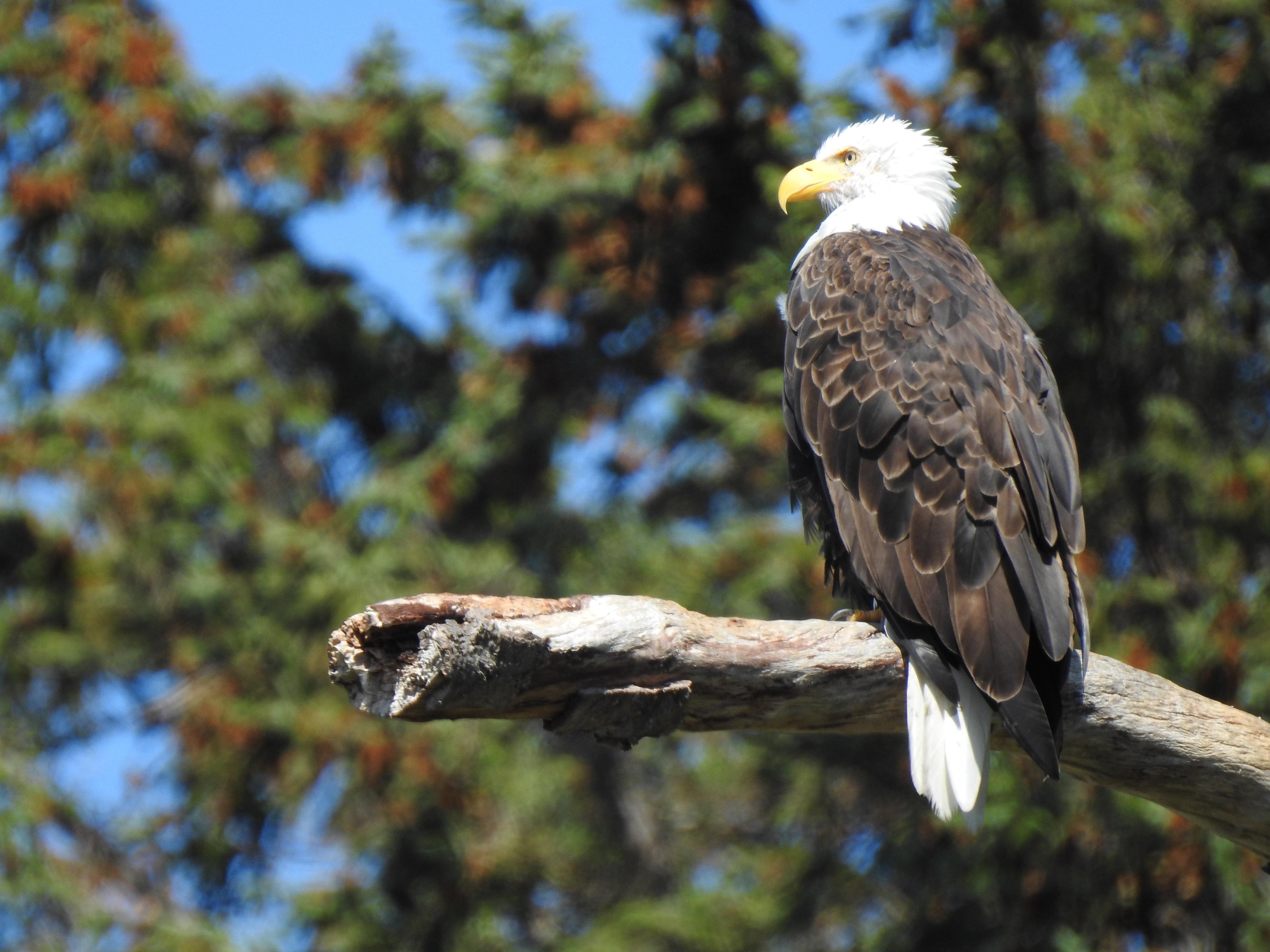 The best spots to pull off and look for one will be at the south end of the lake, at Conesus Inlet and at an unmarked pulloff spot just north of the intersection of Sliker Hill Road and West Lake Road. Watch large, dead trees for perched eagles and listen for their whistly cackling. You might see one or a pair of them hunting or circling over open water or the vast inlet swamp.
Head further southeast and you'll reach Springwater Creek, which drains into Hemlock Lake. The New York State Department of Environmental Conservation stocks the creek with trout every year, making it a popular spot for human anglers in the spring and great eagle country all year.
By July, most of the spring fever trout anglers are no longer visiting the creek, leaving it wide open for eagle peepers. Just park at Springwater Town Park off School Street in Springwater.
Watch up high for eagles actively soaring around, but check the dead trees along the creek especially carefully for sit-and-wait eagles.
Eagles catch large predator fish that few other local animals can. Like the vultures, they get rid of rotting carcasses for us, which is especially great for us in the summer heat. Once near extinction, legal protections from killing and use of pesticides have allowed the eagles to return in a big way.
Many of us remember when seeing a live eagle was considered a once-in-a-lifetime experience. Fortunately for us, the river, and the eagles, a little adventure is almost bound to cross your path with one.