Conesus Lake Libation Loop

Conesus Lake provides great views and delicious drinks on this 19-mile biking loop, with stops at Deer Run Winery, Shoreless Acres & Serious Food, No BS Brew Company, OSB Ciderworks, and a bonus stop at Rising Storm Brewing Company.
Riding with intention (going somewhere) is so much more fun, especially when the destination(s) offer delicious food and drinks. There are several places along this loop where you can stop for bites, sips, and views.
The route is a 19 mile scenic loop around the lake. If you are a recreational rider and not sure how far that is, it would take you about an hour if you weren't stopping. Add some additional time to stop at some or all of these local libation destinations along the ride. You'll meet some of the friendliest people, see unique local favorite spots, and have a delicious day.
Park at Vitale Park at the top of the lake. It's a great spot for lake photos or a picnic. There's plenty of parking as well as a restroom. The route is pretty simple. Turn left out of the park (Route 20A) and in a few minutes, turn left onto West Lake Road. After the first stop, you'll follow West Lake Road to the end of the lake and turn on Sliker Hill Road, then another left on East Lake Road which will bring you back to 20A. Don't miss either turn, or it will end up a really long ride with you calling Uber.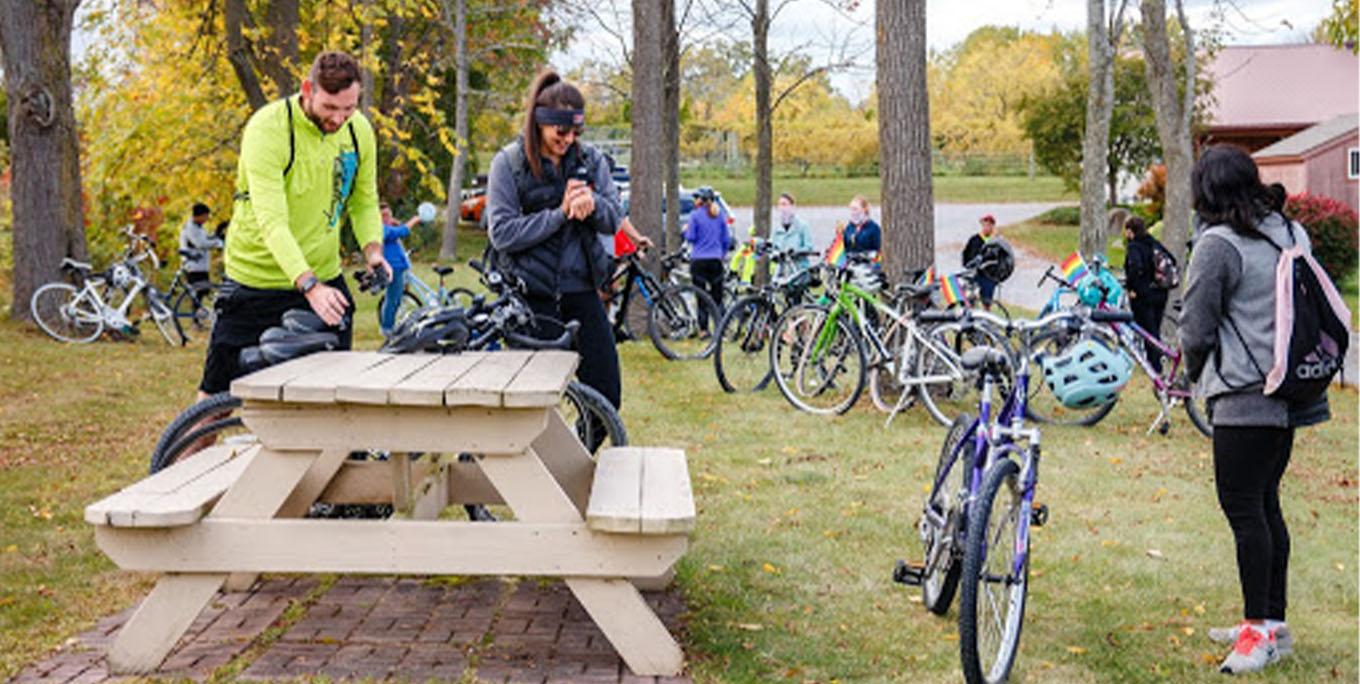 Stop #1: Deer Run Winery
In a quick 10 minutes from the park (left on 20A, left on West Lake Road), you'll arrive at Deer Run Winery. They have a large outdoor pavilion with tented sides overlooking a pond, picnic tables, and, outside of COVID, they have live music on Thursday nights. Sometimes they have a food truck. Warm up for the next leg of the ride with their award winning Finger Lakes wine samples. The samples are only $1 each.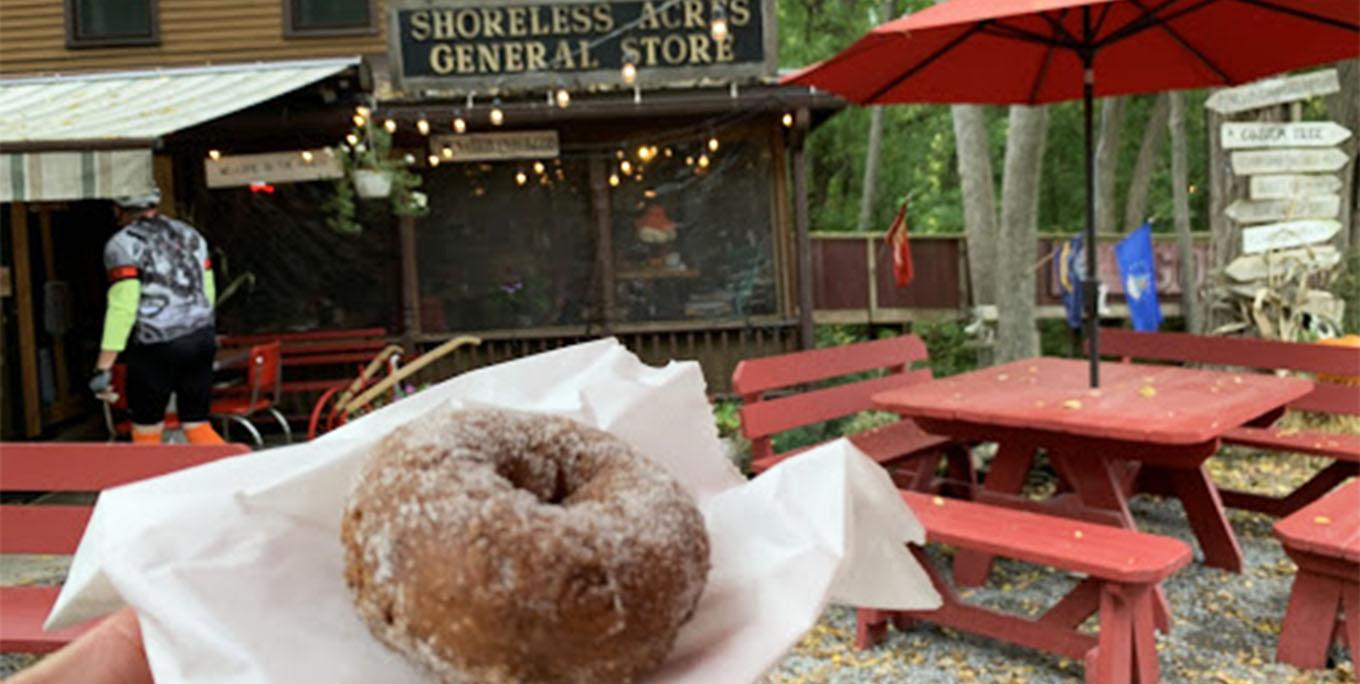 Stop #2: Shoreless Acres & Serious Food
From the winery to stop #2 is the longest stretch of the ride, and where you'll need to look for the left on Sliker Hill Road and the left on East Lake Road. In about 40 minutes, you'll arrive at Shoreless Acres. Be sure to get the donuts! They make some of the best apple cider donuts around on Saturdays, Sundays, and holidays, and they're only $1. They're even more delicious with local Red Jacket Orchards cider.
Shoreless Acres is actually two businesses side by side - a ridiculously cute and quirky general store with hardwood floors, super friendly staff, and a restaurant next-door. It's the kind of business where the owners are doing the unconventional because it makes sense. Refuel and rehydrate with items from the store or order something more substantial to eat next door. They offer everything from breakfast sandwiches and subs, to BBQ and Friday fish fry. Both the store and restaurant have welcoming outdoor sitting areas. There is also a pump to refill your tires. This is another good spot for photos. This is a seasonal business, so make sure to check their page before going!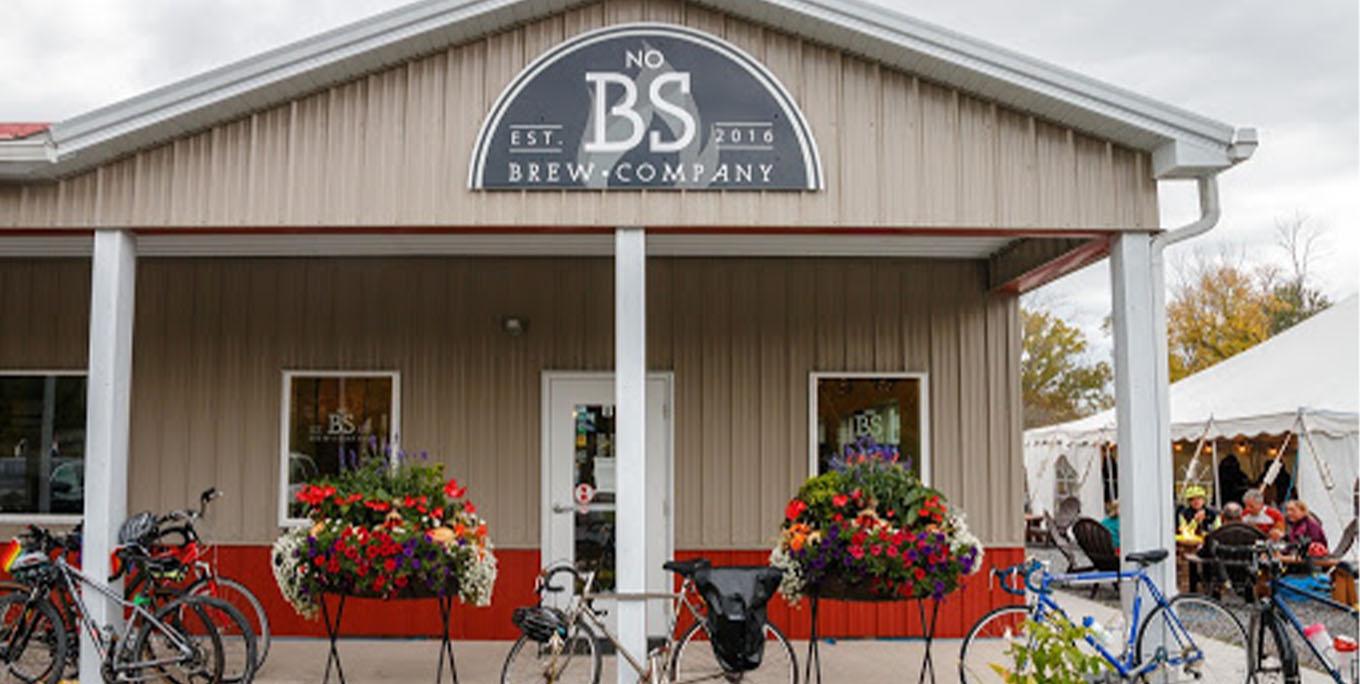 Stop #3: No BS Brew Company
20 minutes later you'll arrive at No BS Brew Company. This local brewery is at the north end of Conesus Lake. You'll be welcomed by 15 of their own craft beers on tap to choose from, local wines, and mixed drinks and slushies made with Rochester's Black Button spirits. I recommend the Southern Hooch - a frozen sample of Apple Pie Moonshine and sweet tea. The wine, beer, and slushies can be ordered in flights, individual samples, or full size pours. Outside there are Adirondack chairs, picnic tables, fire pits, and a large tent.
Tip: You can mix and match your flight with beer and the 3 frozen drinks of the day. They also serve Vincenzo's pizza by the slice.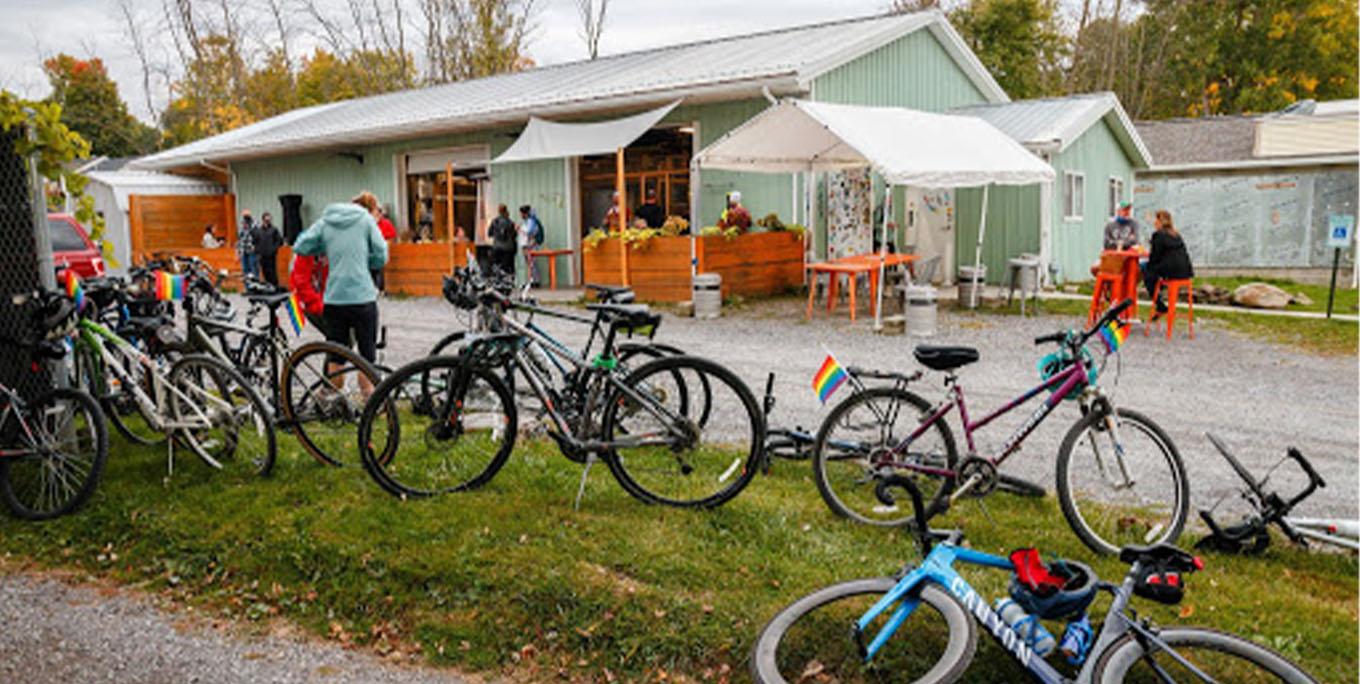 Stop #4: OSB Ciderworks
OSB Ciderworks is a stone's throw (OK maybe a few stone throws) away. Instead of driving back to the road, you can cut through the parking lots to get to this next stop. As you're facing the lake, go to the right. OSB is a hip joint. That's the best way to describe it. It's an indoor outdoor space/garage with great outdoor heaters and a medium-sized wooden bar inside. OSB is owned by a brother and sister duo. They've been making ciders in their family for generations and use NYS apples and other local ingredients. They're darn good. You've probably seen and/or enjoyed their cider all over Rochester, but don't miss your chance to visit their homebase here in Conesus. The ciders change frequently, and there is a large selection offered on tap along with local beers. They serve flights and full pours of both.
Tip: Try the Cherry Cherry cider. You can mix and match your flight with beer and cider.
You are almost back to Vitale Park. It's down the road slightly across the street. At this point, you are going to be hungry. You could order a pizza and go to the Lake or grab dinner at one of the Conesus Restaurants. If you are a brewery fan, you'll want to put your bike away and go to this recommended brewery by car: Rising Storm.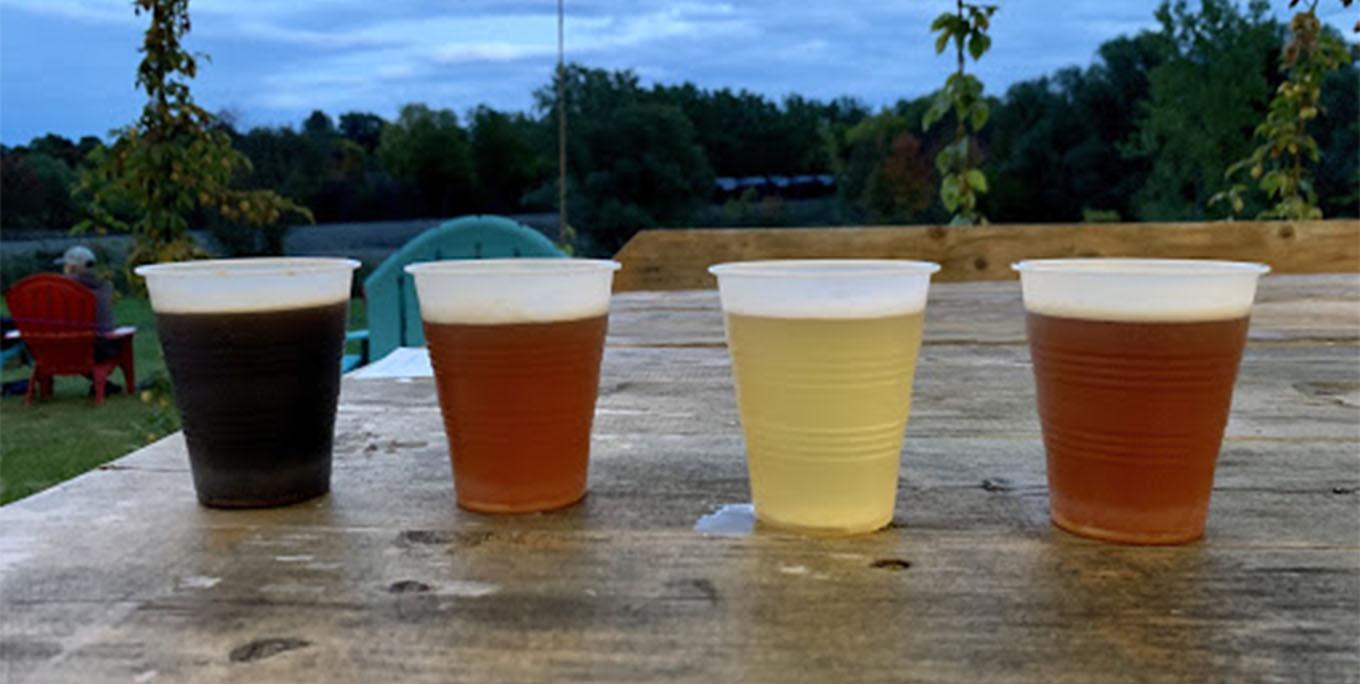 Bonus Stop: Rising Storm Brewing Company
You'll want to drive to this stop because it's on a busy road. It's super close - just a few minutes north of the lake. Rising Storm is another great indoor/outdoor brewery with a full menu from a resident food truck (their own). Large open garage doors connect the outside to the interior. Outside are Adirondack chairs and more tables overlooking the hillside. I loved the peanut butter banana stout. Our group on a recent A-List Adventure libation loop ride loved the food, and among us, pretty much tried everything. High recommendations for the brisket sandwich, poutine, and fried cheese curds.
Tip: They serve beer cookies and rotate flavors weekly - each made with one of their beers by Finger Lakes Cookie Co.
Other Restaurants Near Conesus Lake to try:
Fratelli's: Italian-American restaurant in Avon.
Vincenzo's Pizza: Homemade pizza and Italian. Dine in or take-out restaurant in Lakeville.
Ember Wood Fire Grill: Restaurant in an old train stop with scratch-made cuisine that is perfect for sharing. Located in Livonia.
Conesus Lake Libation Loop