The Avon Opera Block was built in 1876 after fire destroyed the United States Hotel on the same site. The third floor of the Opera Block was originally an opera hall, used for community productions and events. It also hosted famous speakers such as Elizabeth Cady Stanton and Sojourner Truth.
Open
Always visible from the outside. The third floor is currently being renovated, and on the first floor are the Town of Avon offices (open Monday-Friday during business hours), the Avon Town Court, and the Avon Preservation and Historical Society (open Thursdays and Sundays during select hours when not limited by the pandemic).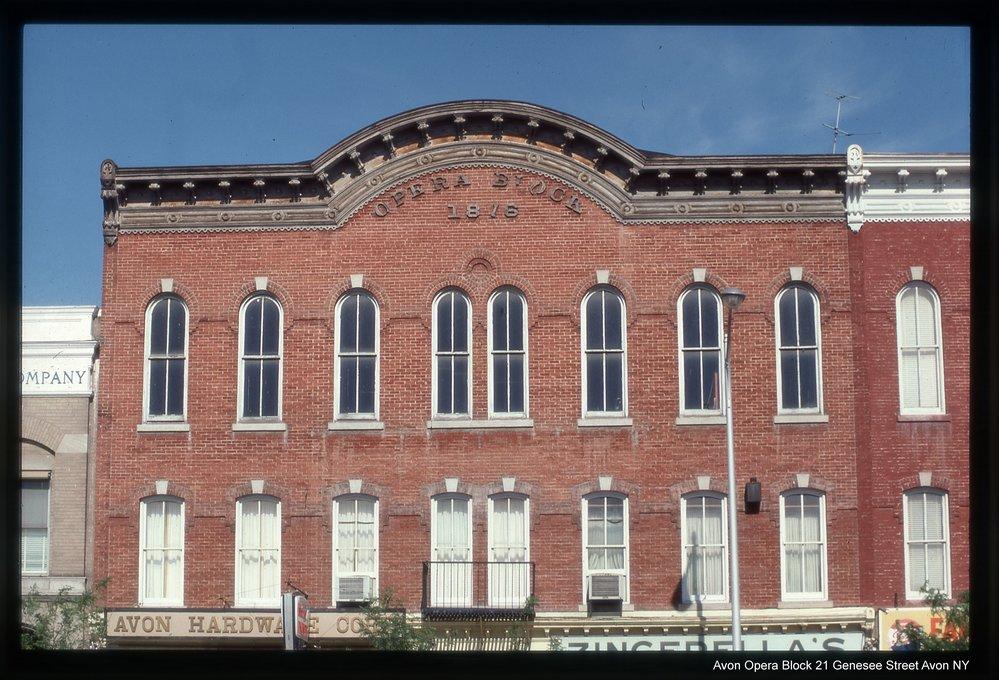 After its construction in 1876, the top floor of the Avon Opera Block was a central gathering place for the community, where citizens of all ranks would congregate to attend theatrical performances, lectures, political meetings, dances, and school graduations. For over a half-century, the Opera Block served as the focal point of Avon's recreational and social activities. (National Register of Historic Places nomination, 2006.)
Elizabeth Cady Stanton, the famous suffragist, spoke at many locations around Livingston County in the late 19th and early 20th century, including the Avon Opera Block in 1877.
For Stanton's upcoming lecture, the Livingston Republican newspaper ran a small notice announcing "Avon is to have first class lecture courses to be opened by Mrs. Elizabeth Cady Stanton." A preview blurb in the Avon newspaper, the Livingston County Herald, gave a positive review of Stanton's recent lecture in Bath, Steuben County, stating that she drew a large and appreciative audience. To ensure an equally large audience for her visit to Avon, a huge advertisement in bold print in the same paper proclaimed, "ELIZABETH CADY STANTON! OPERA HALL, SATURDAY EVENING DEC. 8, 1877."
The follow-up notice the week after the event gave no details of the size of the crowd or a critique of the program, but did offer the following quip: "Since Mrs. Stanton's lecture the girls have lengthened their stays a quarter of an inch and the boys have lengthened theirs an hour and a half." Stanton had also appeared in Lima the night before coming to Avon, but unfortunately there was no follow-up in the local news.
Sojourner Truth, the famous abolition, temperance, and civil and women's rights advocate, frequented the lecture circuit in New York State, including Livingston County, appearing in Avon and Livonia in August 1878 and in Mt. Morris in 1879.
The Opera Block is now owned by the Town of Avon. The building has been renovated, with the exception of the top floor, for government offices and the historical society museum. Plans are in the works to restore the auditorium for community use.