Local Business Spotlight: Hopp'd and Brew'd
Justin Peritore and Jeremy Clark met in kindergarten in Mt. Morris. Now, some thirty years later, the two are running one of the most popular food trucks in the Genesee Valley and stocking stores full of their hopped-infused sauces from Springfield, MA, to Buffalo, NY. Hopp'd and Brew'd Sauce Co., Peritore and Clark's business, has become a force to be reckoned with: in three years, the men have gone from selling their sauce in mason jars in person to sending their 1,500 online orders to 42 states.
Although neither man has a formal education in business -- Peritore is a chef and Clark a third grade teacher -- the two have serious entrepreneurial skills. Peritore was selling garbage plates in Massachusetts while Clark was becoming more and more interested in craft beer, when Clark asked Peritore if he could make the hoppiness of beer come out in a sauce. In his research, Peritore discovered that no one else was making hop-based sauces for retail sale. Clark knew that it was only a matter of time before craft beer became huge in Livingston County, so the two got to work. Since there were no hop-based sauces on the market, Peritore had to rely on his culinary background to create recipes from scratch. The challenge was to make sauces that tasted like hops, but were not alcoholic products themselves. Peritore created four sauces, now protected as secret recipes: Honey Q Sauce (a honey Carolina Gold barbeque sauce), Buffalo sauce, Jerry's meat hot sauce, and the "Q" sauce (a tangy barbeque sauce with a vinegar base). Two new sauces will be making their retail debuts in 2020: a sweet and sticky sauce and a hoppy ketchup.
After the Brewed in Livingston Competition in 2017, multiple breweries opened in the county but did not have kitchens. Peritore and Clark saw another opportunity: they would provide beer-centric food from a food truck to brewery visitors. Peritore developed recipes that featured the bottled sauces, like "Jerry's Balls," amazingly tender meatballs simmered in a combination of Jerry's meat hot sauce and homemade bolognese and "the Fat Joe," all the ingredients of a very generous garbage plate between a bun. After the Hopp'd and Brew'd food truck made its first appearance in March 2019 at No BS Brew Company in Livonia, local breweries and festivals quickly booked up the truck through October of the year. The entire operation is a two man show: while Peritore cooks all orders himself in the truck, Clark takes orders and interacts with customers. As part of what the men call "the Hopp'd and Brew'd Experience," Clark personally delivers every order to customers so that they do not have to wait for their food. Despite only being open for one season, the food truck has developed a loyal following, and the two owners have seen the same people visiting them dozens of times.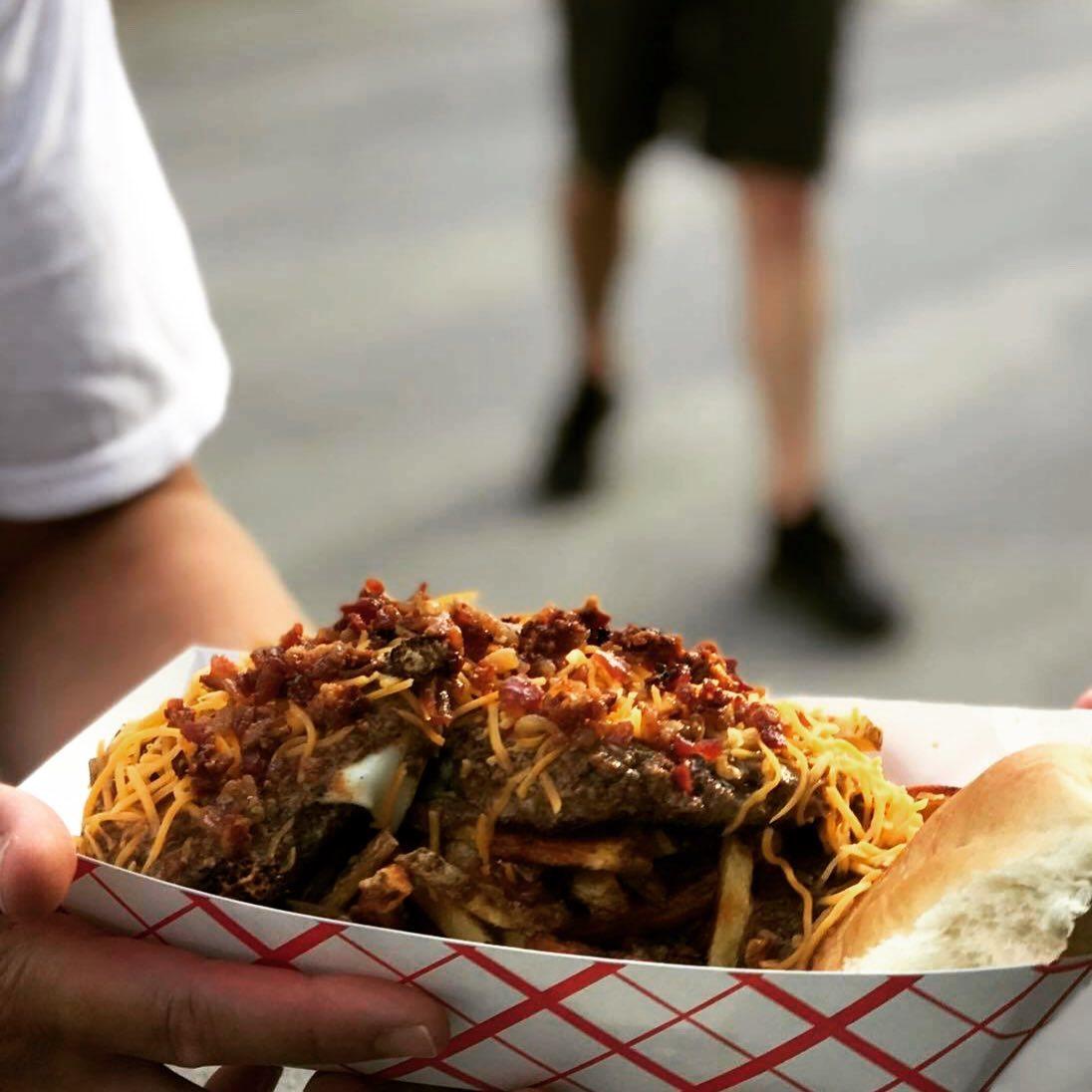 Hopp'd and Brew'd's Facebook page keeps customers informed of the whereabouts of the truck. This weekend, October 11-13, the food truck will be at Dublin Corners on Friday and No BS Brew Company on Saturday and Sunday. On October 19, the truck will be at the Swain Beer Festival, and on December 7 at the Avon Holiday Spectacular. Although the food truck season is coming to a close, Hopp'd and Brew'd sauces are available year round on the company's website and in local retailers like HoneyGirl Gourmet in Geneseo, Geek Chic Floral Boutique in Avon, and Wendy's Pantry in Mt. Morris. Want to test out the sauces in person? Clark will have a table of sauces at the Letchworth Arts and Crafts Show on October 13. Given Justin Peritore and Jeremy Clark's serious hustle, Hopp'd and Brew'd will not be slowing down any time soon.