Just three miles from Letchworth State Park and adjacent to Silver Lake, the Village of Perry is the perfect place to spend a weekend. A thriving arts and culture scene along with a rapidly growing craft food and beverage scene make this Wyoming county community a must-visit.
Day 1
8:30 am - Yoga at Genesee Pilates & Barre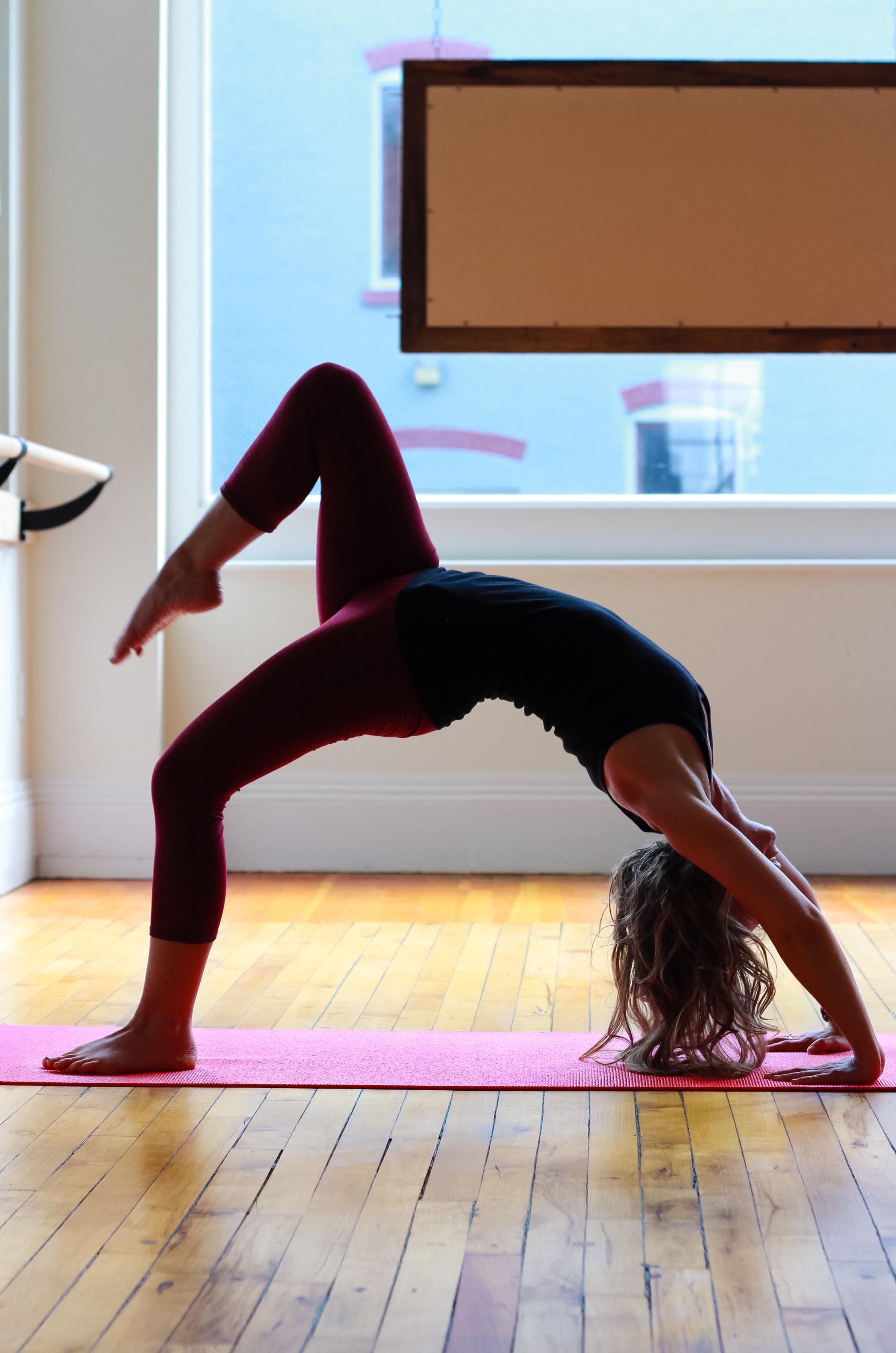 Start your weekend right by rising early and heading to a class at Genesee Pilates & Barre. The main street studio is located inside Genesee Dance Theatre and offers open classes in yoga, Pilates and barre for adults. The first class is always free for newcomers with a drop-in rate of $12 for subsequent visits.
---
9:30 am Perry Farmer's Market
After yoga, stroll across the street to this charming outdoor farmer's market located in the Festival Plaza. Open every Saturday morning from the third weekend in June until the end of September, the market features fresh produce, dairy products and meat from local farms along with baked goods. Food carts offer a selection of hot breakfast sandwiches, pastries, coffee and apple cider.
Grab a homemade donut or a breakfast sandwich and have a seat under the canopy at the entrance of the market. Enjoy live music from regional bands all morning long while you shop and people watch.
---
10:15 am *Coffee and book browsing at the Biblio-Tech Cafe *
One block from the Farmer's Market (at the intersection of Main Street and Borden Ave.) this independent bookstore and coffee bar is a popular community gathering spot on Saturday mornings. Along with a selection of new and used books, the Biblio-Tech Cafe stocks its shelves with toys, games and small tech accessories. Kids can take advantage of the children's play area while adults shop.
Order an espresso to sip while you browse the shelves and be sure to grab one of the fresh-baked pastries. The spanikopita (spinach and cheese pastries) and cinnamon rolls are especially popular and disappear quickly.
Insider tip: You'll find Perry mayor Rick Hauser here most Saturday mornings to chat with constituents over lattes and pastries. Pull up an armchair and introduce yourself!
---
11:00 am
*Shopping at Stonewall Craftique *
Across the street and around the corner from the Biblio-Tech Cafe is this charming boutique. Crafted home decor, jewelry, candles and gifts are the primary offerings but you'll also find a selection of locally made jams, sauces, soaps and beauty products here.
11:30 am A gallery stroll at the Arts Council for Wyoming County
Just a dozen yards from Stonewall Craftique is Perry's premiere place to take in some art. The first floor gallery of the Arts Council for Wyoming County features rotating exhibits from both local and international artists. The smaller upstairs gallery showcases work by member artists along with young "rising stars" of the local arts scene.
*Insider Tip: Don't miss the small gift shop located just behind the main gallery. Take home a one-of-a-kind piece of handmade art or pottery by a Wyoming county artist while supporting the work of this not-for-profit arts organization. *
---
12:00 pm
Lunch at A Slice of Brooklyn
At lunch time, take a two block walk north to sample a slice or two of New York Style pizza at Perry's newest downtown eatery. Enjoy your lunch on the back patio or sit at one of the sidewalk tables perfect for enjoying the vibe of the village.
---
1:00 pm Hike the Silver Lake Outlet Trail
Silver Lake Outlet Trail waits for you a five minute walk from Main St. with a discreet entrance near the Lumberyard Restaurant on N. Federal St. The easy half-mile trail runs along the outlet flowing water from Silver Lake to the village. Take the time to stop and observe the wildlife--beavers, turtles and deer are often spotted in this area.
The trail brings hikers right to private property at the edge of beautiful Silver Lake. If you're feeling adventurous and up for a challenge, hike southward on the county road to reach your next destination (it's about a 4 miles hike to Silver Lake Marina!).
Those who prefer the road more traveled should hike back toward the village and drive the 4 mile long journey to the lake's public launching points.
*Insider tip: Bring binoculars! This trail is also excellent for birdwatching. *
---
2:30 pm
Kayaking or Canoeing on Silver Lake.
One of the best ways to explore this westernmost finger lake is via kayak or canoe. Bring your own or rent one from the Silver Lake Marine or Mack's Bait and Boat Livery, where you can also find docking and launch spots. For something different, try the challenge of a stand-up paddleboard!
---
5:00 pm Drinks and music at Silver Lake Brewing Project
Beer drinkers will be in heaven at this craft brewery located inside a renovated historic structure on Borden Avenue. Sample the rotating selection of 12 craft beers on tap brewed on site while you take in live music and chat with the friendly bartenders.
*Insider tip: While this taproom doesn't offer food, patrons are welcome to order delivery from area restaurants. Order an appetizer of hot wings or breadsticks from Daryl's Pizzeria to enjoy with your beer. Wanna have dinner here? The Hole in the Wall also offers delivery of many of its menu items to the brewery. *
---
6:30 pm Dinner at the Hole in the Wall Restaurant & Lounge
Located close to the public beach on Standpipe Road, overlooking the lake, this local favorite has been serving up elegant yet accessible cuisine with a full bar and extensive wine list since 1936.
For a real taste of the best the area has to offer, be sure to partake in the Farmer's Market Special, offered every Saturday in the summer. Chef Travis Barlow creates a five course meal for two inspired by the week's offerings at the downtown farmer's market. Also on the menu daily are Western NY favorites like Fish Fry and Roasted Beef on Kimmelweck ("Beef on Weck" to the locals) as well as vegetarian, vegan and gluten free options.
*Insider tip: See if you can spot a WW2 era menu hanging above the entrance ramp. The handwritten banner was originally displayed in the restaurant's original location on Main St. when it was known as the "Perry Sandwich Shop." *
---
8:45 pm -** A movie under the stars at the Silver Lake Twin Drive-In**
No weekend in Perry is complete without taking in a movie at the drive-in. The Silver Lake Twin Drive-In shares a property with the Charcoal Corral, a family fun center and restaurant featuring mini-golf, an arcade and an outdoor concert area. Pick up a cone of soft serve custard from the old-fashioned ice cream parlor to enjoy while you watch a double feature of new releases. Insider tip: The drive-in's location right on the lake means the mild western NY summer evenings are prone to a lake breeze chill. Bring blankets and layers to stay warm and cozy.
---
Day 2
11:30 am - Brunch at [Ration Wine Bar ](Ration Wine Bar https://www.rationwinebar.com/)
This modern wine bar is located in the remodeled original Main St. storefront of its sister business, the Hole in the Wall Restaurant. Showcasing the wine-making styles of the Finger Lakes region, the bar also offers craft beers, ciders, spirits and small plates. Ration's Sunday brunch utilizes fresh local products served with prosecco mimosas and pour-over coffee. Linger over your meal on the sunny back patio overlooking a bubbling creek.
*Insider tip: Ration's moniker is a nod to an important piece of Perry history. When the Hole in the Wall operated at this location in the 1940s (when it was still known as Perry Sandwich Shop), it became famous for offering free meals to servicemen during the war. When war rations ran low, community members donated their own rations to ensure servicemen could continue to enjoy a meal on their way through town. *
---
2:00 pm East Hill Creamery
Stop into this family owned and operated creamery to take a slice of Perry home with you. All the artisan cheese made and sold here is sourced from raw milk from East Hill's grass-fed cows.
*Insider tip: Visiting when the shop is closed? A self-serve vending machine on site lets you purchase cheese any time of day or night. *
---
2:30 pm - A scenic drive and hike at Letchworth State Park
Bring your Perry weekend to a close by taking an afternoon to explore Letchworth State Park. Follow St. Helena's from the village to the Perry entrance of the park, just 3 miles away. From there, choose from the dozens of trails to explore or take a scenic drive southward on Park Rd. to the Letchworth Falls. Park at the Visitor's center and take your time admiring the spectacle of the Genesee River as it runs through the gorge and over three massive, jaw-dropping waterfalls.
*Insider tip: When the light is just right, you can often spot a rainbow hovering in the mist at the middle falls. Make sure your phone or camera are charged and ready! This is a great spot for photo ops. *